School Meals

(now including School Milk)
All of our meals are cooked fresh on site and include a vegetarian option. The children are offered a main course, with an additional fresh salad bar and variety of desserts including fresh fruit. Meals are in eaten in the hall.
The cost of a school meal is £2.50. We would like payment made on a Monday morning for the week, month, half term or term. School meals, swimming and trips etc are payable via the ParentMail App.
Thank you for your constant support in making our school a "nut free zone" by avoiding bringing nuts into school at lunchtimes. We need to continue to protect some of our children with significant allergies.
Free School Meals
Free school meals are available to some children according to family income. It's important to register for entitlement for free school meals, even if your child has a packed lunch - this is so we can receive additional funding (called the pupil premium) which we can use to help your child.
To find out if your child qualifies for free school meals, and for any help or advice, please contact:-
Website: https://www.essex.gov.uk/free-school-meals
Please download our School Lunch Menu and our Catering Information Leaflet below.
***WE ARE PLEASED TO ANNOUNCE OUR KITCHEN HAS JUST BEEN AWARDED A 5* FOOD HYGIENE RATING AGAIN***
Lunch Menu
Below is the 'New Winter Menu' which will commence from Monday 30th October 2023
School Milk
Our school milk scheme
Did you know our school has a school milk scheme?
By registering your child for our school milk scheme they will receive a 189ml (third of a pint) carton of semi-skimmed milk every day. This is delivered fresh and chilled to their classroom every day.
"How much does it cost?"
Thanks to government subsidies, school milk is free for all under-fives and is subsided at around £15 a term for children aged five or older.
"Why should I register my child?"
School milk provides your child with essential nutrients such as calcium and protein, for strong, healthy teeth and bones. It is also rehydrating and energy boosting, helping to bridge the long gap between breakfast and lunch so children stay focused.
Find out the top ten reasons to drink school milk at www.coolmilk.com/whyschoolmilk
"How do I register my child?"
If your child is under five-
1. Go to www.coolmilk.com or pick up a form from school.
2. Just register by a Tuesday for your child's free milk to start the following week.
3. Free milk will continue until the Friday before your child's fifth birthday. You will receive a payment request three weeks before this time- if you wish for your child to continue to receive school milk simply make a payment.
If your child is over five-
1. Go to www.coolmilk.com or pick up a form from school.
2. Pay Cool Milk online, over the phone, at a local PayPoint or by cheque in instalments to suit you. If registering online you can pay straight away, if using a registration form you will need to wait to receive a payment request.
3. Just pay by a Tuesday for your child's milk to start the following week.
"How do I find out more?"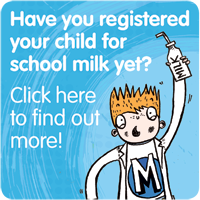 Visit www.coolmilk.com or contact Cool Milk directly on 0844 854 2913.