Year 3
Annual Curriculum Overview;
Long Term Planning;
Please find below PDF documents that summarise the key areas that your child will be learning over each term. Much of the learning has been grouped together under a project based approach so that children are better able to link their learning together for a real purpose. The project is divided into three phases;
1) Inspire and motivate; to capture children's imagination, curiosity and interest,
2) Learning specifics; skills, knowledge or understanding needed to support their project
3) Apply and Share; using what they have learnt for a real purpose and for a real audience
Naturally not all areas of the statutory national curriculum will fit together within their project and will be taught as discrete subjects to ensure children get their entitlement and meet the standards expected of them.
Please note that to view the document in full either download it, or by using the various tools embedded in the document page you can change its size and have the document appear in full; however this will vary according to the web browser that you are using.
Spring Term 2018: 'The Enchanted Lamp'
This term the children's project culminated in a production that re-told the tale of Aladdin. In Art and Design the children made their own tie-dyed t-shirts to wear on stage along with making many of the wonderful props and backdrops. In Computing they produced the tickets for the show, filmed their introductory credits using 'stop-animation' and in the second act many children were seen flying over an ancient Arabian city through the use of 'green' screen technology. Learning in Science developed their understanding of 'Light' and how shadows are formed with a shadow puppet show supporting their performance. Even Mathematics played a role through developing their understanding of money and the 'Economic' aspect of the new PSHE (Personal, Social, Health and Economic education) curriculum with the children running their own after-school shop and raffle which so far has raised over £700. The money helping to contribute to their research theatre trip in London to watch and be inspired by 'Aladdin'. Of course Music and Dance featured heavily along with spoken language developed as children had to recite their lines using intonation and expression. Back in class, in English lessons, the children have also planned and written their own reports expressing their views about their production of 'The Enchanted Lamp', they have also written character descriptions and their own play scripts too.
Crucially the children have developed a greater sense of self-belief and confidence, they have overcome challenges, applied a real 'growth mindset' that they can do and achieve things that they initially felt were beyond them. Well done to all.
Please see below a collection of pictures taken from the children's production*;
If you are unhappy with your child being in any of the pictures please do let the school office know so that we may remove it.
World Book Week March 2018:
Traditional Tales.
Can you spot any of our characters below?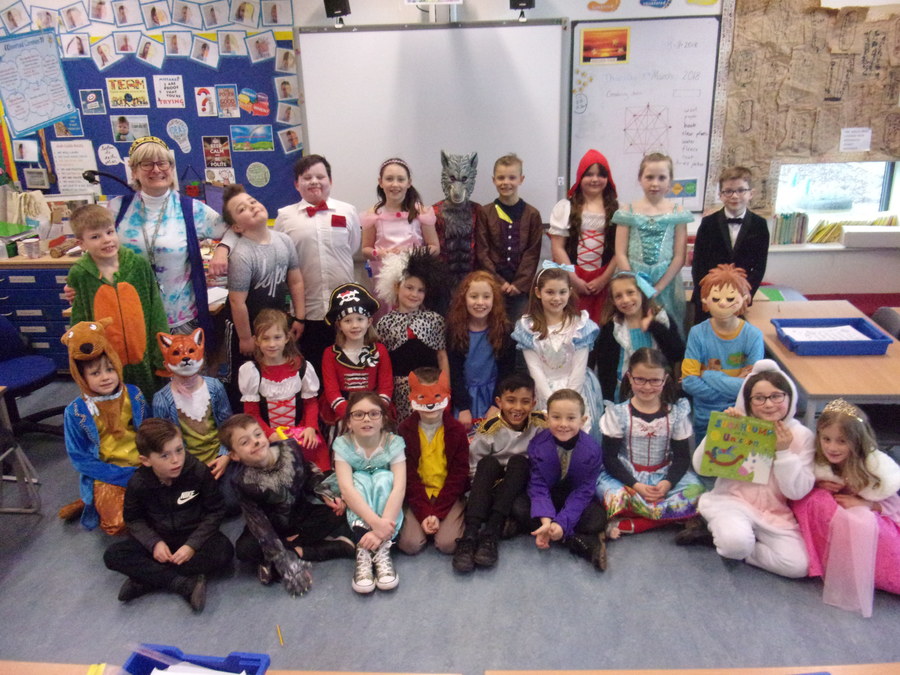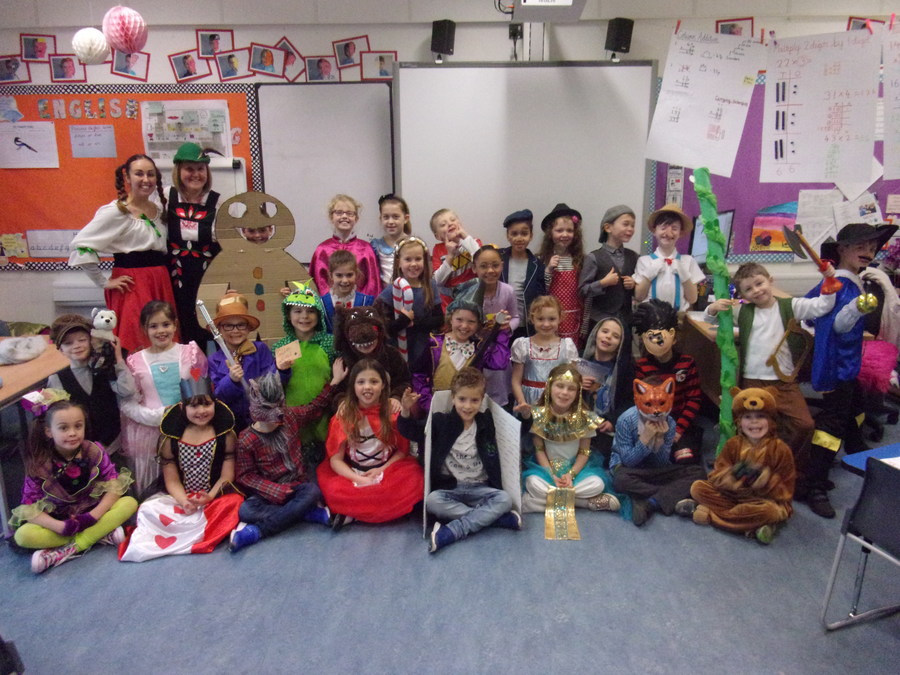 Decorating our class doors;
But which traditional tales do they represent?
Autumn 2017: 'The Egyptians'